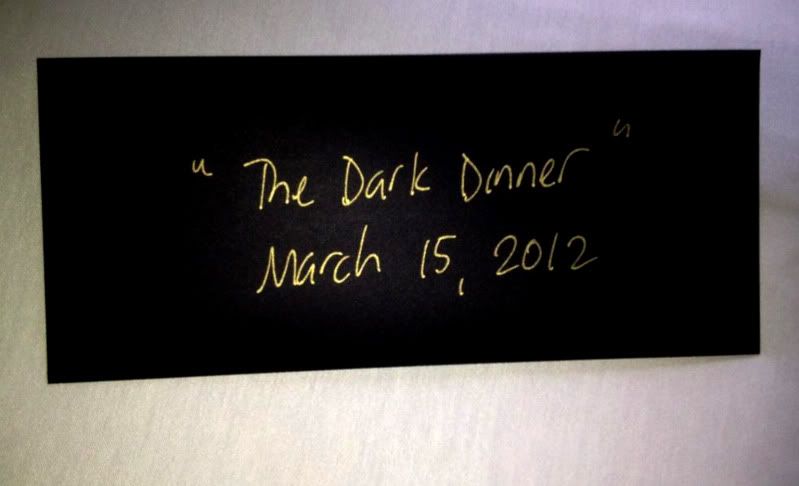 Last week I was invited as a guest of the Wishing Well Restaurant in Saratoga Springs along with some of their other close friends to try a new dining concept – The Dark Dinner. Guests gathered 'round for beverages (including a great Cava + St Germain) and passed nibbles before donning blindfolds and eating entirely in the dark. Executive Chef Patrick Longton created a fun menu for adventurous guests to enjoy.
The music for the evening was also curated by Burners UK frontman Jay Yager (you can check it out here on itunes).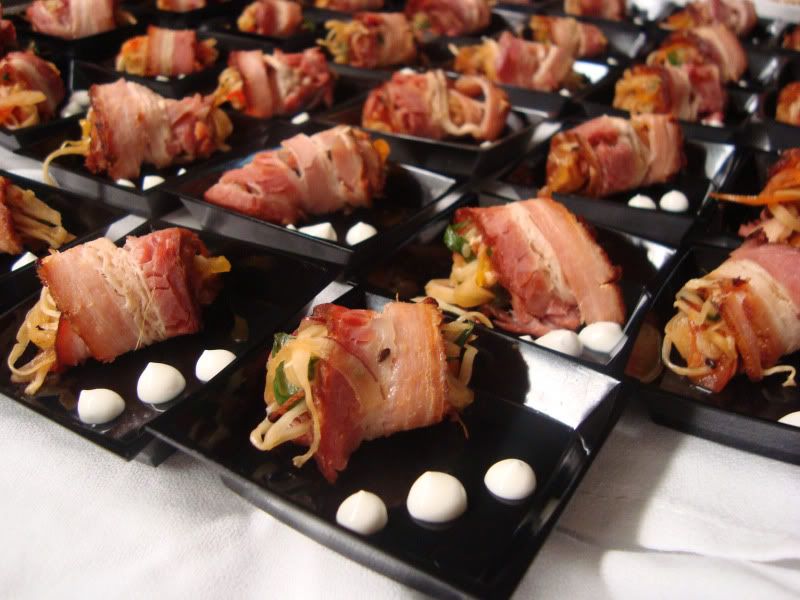 Pork belly wrapped kimchi was a great little snack to enjoy pre-blindfolding.

And the ceviche was also a stand out dish. Fresh, great textures. It was almost as good as their luxe & buttery pate. Oh man, was that ever good. I think I had about three of them before realizing I still had a multi-course menu ahead of me.

After this, the waiters led each diner into the sectioned off dining room. It was lit with a few candles, but you had to wear your mask in. It was definitely an exercise in trust to put your hand in someone's arm and have them guide you around a room. The staff doing so were very patient, though (and didn't mind my occasional peeking from under the mask en route to the chair).

Bob Lee, the owner of the Wishing Well, and his staff made sure each and every guest was comfortable and addressed everyone by name.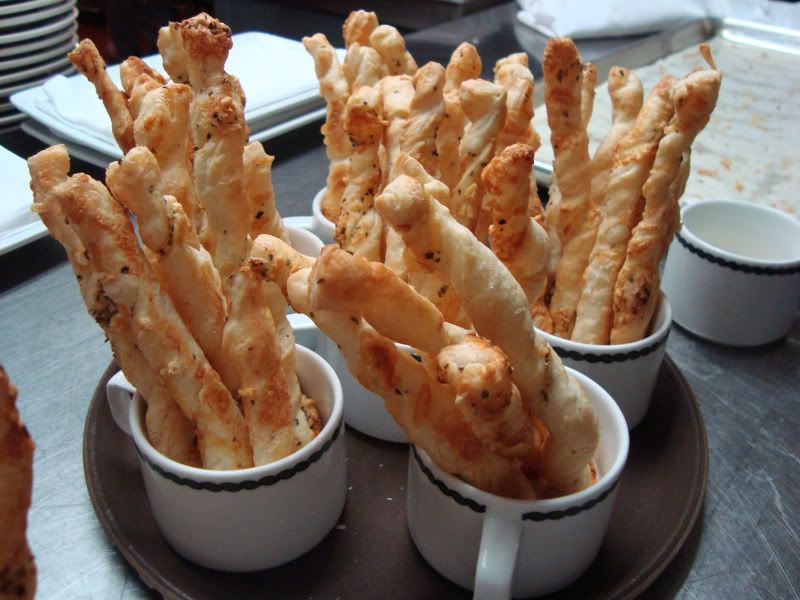 Cheese filled puff pastry breadsticks were a fun starter in the dark. Inside the cups were mustard.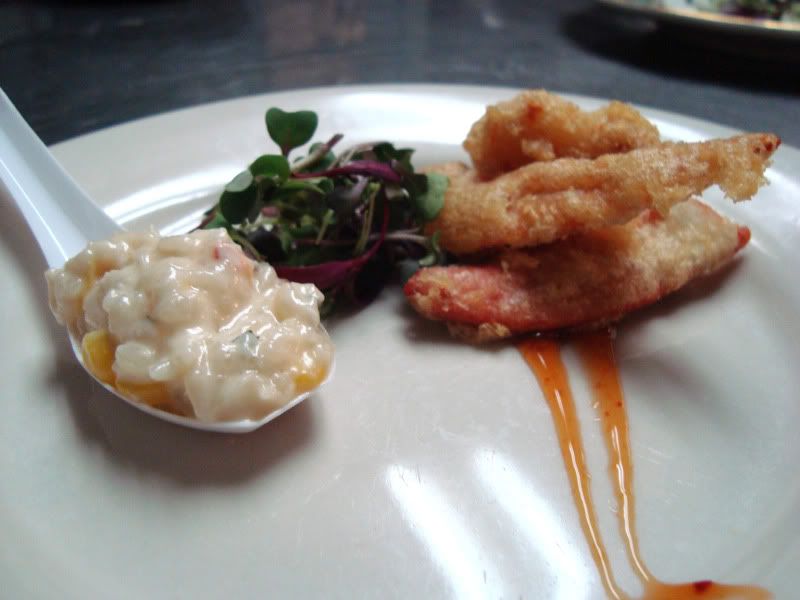 Nomtacular first course – Lobster, corn, & basil risotto on the left, and crispy lobster tempura on the right. It's really interesting to be without your vision when trying a dish. I thought the tempura was shrimp, and the risotto was something with scallops in it. I might have to rethink my stance on risotto, because I finished all of this.
There were drink pairings with each dish. If you think trying to identify food without vision is tough, try identifying drinks!
A 2010 Tramin Chardonnay was served with the risotto, and Ichishima Silk Deluxe Junmai was served with the tempura. I'm normally not a sake person, but the Ichishima was quite smooth, sweet, and creamy.

The second dish was chicken galantine and linguine with pesto. The chicken was moist, and I found myself enjoying the red pepper flavor (which I usually really dislike). I thought the tomato was more of a grape, though!
Drink pairings were Cap de Faugeres 2004 & Bastianich Friuliano 2010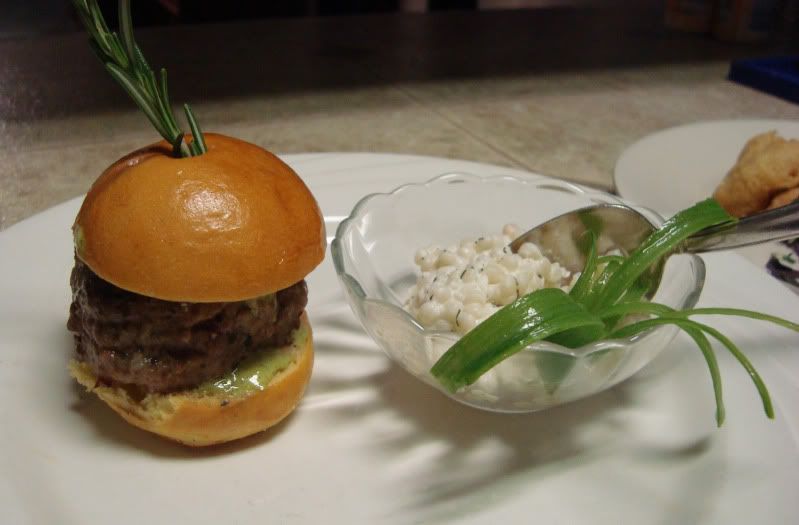 Lamb slider! One of the biggest "complaints" people had was that there was only one slider on their plate. Seriously, that good. Meaty and lamby – this was a comforting treat. I don't think my slider had the decorative rosemary sprig. Either that, or I am really not paying attention to what I eat when meat is present. It was so good, I've decided that I need to make the trek back to Saratoga Springs with Albany John to try out some dishes at the Wishing Well in the near future.
An Ique Malbec was served as a wine pairing with the slider – robust and big!
Israelei couscous was a cold side dish with this, which was a bit clumpy, but tart and a nice foil to the lamb burger.
Blue Heron Pale Ale was the accompanying beverage with the salad. When everyone was trying it, we all knew it was beer, but what kind? Even the beer enthusiasts were having trouble trying to find the *exact* beer it was. If you can't tell, these dinners are quite open to conversation with your table mates. You can also blissfully opt out of conversations if you're the introverted type, because no one can see you or attempt to chat you up. But really, I'd suggest chatting – it's fun trying to guess what exactly is going in your mouth.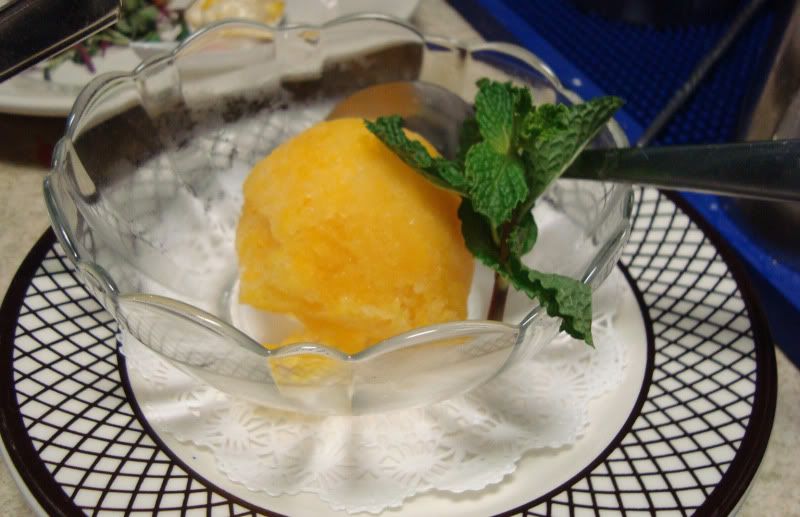 Palate refresher! Peach bellini sorbet, which we weren't allowed to eat until… Zardetto Proseco di Conegliano was poured atop. I loved this – not only was it a nice change of pace, but when you leaned in you could hear the bubbles fizzing with the sorbet.

The main was a mini beef tenderloin with a cheese potato croquette, and baby spinach timbale. A timbale! That would explain the light flavor & texture! This one was a real stumper – it was custardy soft, so I was thinking it was a mini crust-less quiche, or something eggy. I wasn't imagining something so green!
The beef wellington was quite savory, thanks to the generous amount of Hudson Valley Foie Gras. I thought it was boar tempura! Haha. Boy was I off on that one!
And that potato croquette? Oh man, so good – very full of deliciously funky cheese.
I was totally digging the 2008 Hall Cabernet that was paired with this dish. It wasn't so bold, and I thought it was similar to a lot of the gentle qualities that tempranillos have.

Dessert! These were four different kinds of truffles – chocolate & hazelnut, bacon & brown sugar, white chocolate & peanut butter, and POPROCKS!
I was in love with pretty much all of them. The Bottex Bugey Cerdon "La Cueille" was a wine like a hug, and a great way to end a fun meal.
Beverage pairing remnants. Each pairing was a treat, and really complemented the dishes they were paired with. I am definitely going to try some more sakes after this event, and am thinking some blindfolded drink tastings might be a thing in my future.
This was the first Dark Dinner evening, and I certainly hope it won't be their last.